Compact, Convenient, Affordable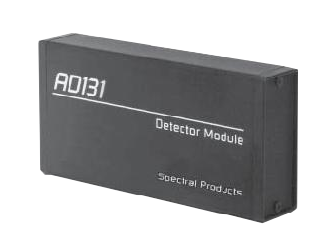 - Combines SP photodiode detector, programmable charge integrator, and data conversion in a compact package
- Expandible with add-on modules for cooled sensor capability
- Null function for background noise subtraction
- Programmable gain ranges
- Windows® based data acquisition software included
- Easy to install and use on any SP monochromator
- Internal data averaging
The AD131 is a computer controlled data acquisition device for photodiode detectors, coverin a wide wavelength range with Si, InGaAs, PbS, and PbSe photocells from the AD4x series. The unit contains an internal programmable charge integration amplifier, a 16-bit A/D converter, and a microprocessor with USB 2.0 interface. Signal processing functions take place internal to the AD131 to greatly reduce the noise level of the measured signal, including Correclated Double Sampling (CDS) and signal oversampling for digital filtering. Windows based software allows for stand-alone operation or integrated control and data acquisition with any of the Digikröm line of monochromators.
Adding the AD131-TC Themoelectric Controller module to the AD131 enables the use of AD4x series heads with cooling capability (designated by a "-C" on the model name). AD4x heads are easily exchanged on the same AD131 unit.
SP Part #

Detector Type

Size (")

Range

Temperature

Sensitivity

Dark Resistance / Current

AD421
Si
5.8 x 5.8
190 - 1000
25°C
0.4A/W @ 720nm
20pA
AD430
InGaAs
3⌀
800 - 1700
25°C
0.95A/W @ 1.55µm
15nA
AD431
Si
InGaAs
2.4 x 2.4
1⌀
300 - 1700
25°C
25°C
0.45A/W @ 0.94µm
0.55A/W @ 1.55µm
30pA
1nA
The following require the AD131-TC Thermoelectric Controller module in addition to the AD131 Photodetector module.
SP Part #

Detector Type

Size (")

Range

Temperature

Sensitivity

Dark resistance / Current

AD430-C
Cooled InGaAs
3⌀
800 - 1700
-10°C
0.95A/W @ 1.55µm
1nA
AD431-C
Cooled Si
Cooled InGaAs
2.4 x 2.4
1⌀
300 - 1700
25°C
-10°C
0.45 (25°C) @ 0.94µm
0.55 @ 1.55µm
30pA
0.07nA
| | |
| --- | --- |
| Model | AD131 |
| Wavelength Range | Dependent on Sensor Type |
| A/D Resolution | 16-bit |
| A/D Conversion Rate | 500 kilo-samples per second (kSPS) |
| Response Rate | USB 2.0 |
| Time Constant | 10µs, 100µs, 1ms, 10ms (selectable) |
| Low Pass Filter | 1/3Hz, 1Hz, 10Hz, 100Hz (selectable) |
| Phase Shift | 0 - 180° (selectable) |
| Amplification Gain | x1 to x10 (selectable) |
| Phase Lock Loop Voltage Input | 0 - 5V optical chopper reference signal |
| Trigger Input Voltage | 0 - 5V DC TTL |
| Supply Voltage | 100 - 240V AC |
| USB 2.0 Transfer Rate | 480 MB/s |
| Software | Windows control program for stand-alone use or integrated with SP monochromators. |