​​ASB-W-030 30W High Stability Tungsten-Halogen Light Source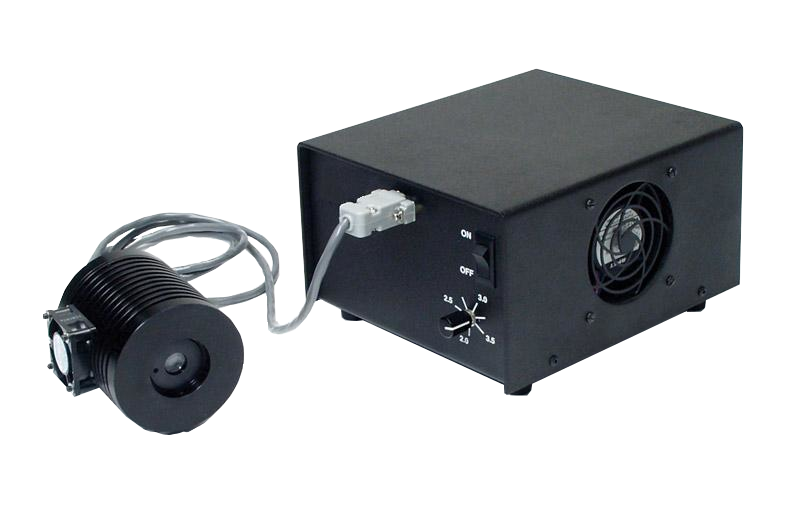 - Provides optimal illumination to monochromators
- Offers excellent color temperature stability
- Features adjustable constant current power supply
- Contains focusable fused silica lens assembly
- Uses AF series for remote fiber optic illumination
The ASB-W-030 is a complete light source assembly with a tungsten-halogen lamp that emits in the 300 to 2600 nanometer (nm) wavelength region. It has been designed to transfer the maximum possible illumination from a tungsten-halogen lamp to Digikröm monochromators. The tungsten-halogen lamps of the ASB-W-030 are near blackbody sources of light with fused silica envelopes around the lamp filaments. Figure 1 shows blackbody spectral distributions at various color temperatures in Kelvin (K). The ASB-W-030 spectral distributions resemble those of Figure 1 out to about 2600nm, beyond which the transmission of the fused silica lamp envelope limits the output. In addition to the 30 Watt tungsten-halogen lamp (SP type ASB-W-030B), the ASB-W-030 features a housing for the lamp and an adjustable constant current power supply. The housing contains a focusable fused silica lens assembly selected for optimum coupling to the monochromator. The focus adjustment also allows for flexible mounting configurations for the ASB-W-030, with output focusing adjustable over a wide range of focal lengths. This also makes the ASB-W-030 an excellent light source for the illumination of samples. The 30 Watt tungsten-halogen lamp used in the ASB-W-030 has a nominal color temperature of 3100 K and an average life of 400 hours at this temperature. The color temperature of the lamp is directly proportional to the lamp current which may be varied ± 25% with a control knob on the power supply. Over this range, both illumination and average life will change by approximately ± 50%. The optics of the ASB-W-030, in combination with the 30 Watt lamp, provide maximum illumination for monochromators. Higher power lamps have larger filaments, but no greater brightness per unit area. A filament larger than the 30 Watt size would simply overfill the entrance slit.
The power supply provided with the ASB-W-030 is a DC current-regulated power supply. Current regulation optimizes color temperature stability.
Please click here to view the manual for this light source.
To contact us for more information, please click the "Contact Us" button to go to the Contact Us page. To request a quote or more details about this item, please click the "Email Inquiry" button to open an email to us.
Model

ASB-W-030

Lamp

Type: Tungsten-Halogen (TH)

Filament size: 1mm x 4mm

Power Input: 30W (nominal)

Light Output: 800lm (nominal)

Current: 2.75amp (nominal)

Color Temperature: 3100°K

Avg. Life: 400 hours (nominal)

Spectral Distribution: near blackbody

Mount

Adjustable Tapered flange

Post mounting for standalone operation

Housing

Air cooled with focusable fused silica doublet collection lens

f/1.9 collection and f/3.9 output

Power Input
115 VAC: 50 / 60Hz: 1 amp (standard)
220 VAC: 50 / 60Hz: 0.5 amp (optional)
Power Output

Type: Constant current DC

Range: 2.0amps to 3.5amps

Regulation: 0.05%

Warranty
1 year
Options

Spare lamp ASB-W-030B

AF series for remote fiber optic illumination