Optimum Illumination for IR range Spectroscopy (12K)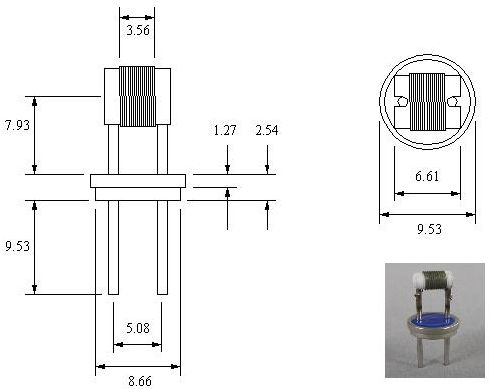 The coiled filament operates at approximately 975℃ when powered with 11W for the ASB-IR-12K. The radiating element of the ASB-IR-12K is a coil of resistance wire which has a high emissivity in the infrared spectral region. The coil is supported on a grooved cylindrical substrate of alumina, resulting in the windings being electrically insulated from each other. This contributes to a more uniform radiating source. The unit does not require operation in a sealed atmosphere. The header is fabricated from cold-rolled steel. The support pins are hermetically sealed in glass.
To contact us for more information, please click the "Contact Us" button to go to the Contact Us page. To request a quote or more details about this item, please click the "Email Inquiry" button to open an email to us.
| | |
| --- | --- |
| Model | ASB-IR-12K |
| Voltage | 6.0 (AC or DC) |
| Temperature | 975℃ |
| Current | 1.8A |
| Power | 11.0W |
| Emissivity | > 0.70 |
| Active Area | 3.5mm x 3.5mm |