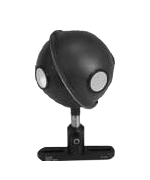 - Integrated sphere with classical exterior
- 3 1" ports
- 1 1/2" port
- For visible to near IR range (400nm - 2400nm)
The AT-IS-4 Integrating Sphere is a classical spherical type integrating sphere and it comes standard with Ba2SO4 coating (effective from 400nm - 2400nm and four orthogonal ports. Wall construction is cast aluminum (allows the use of set screws). Each sphere is composed of two halves, each machined from solid aluminum stock. The AT-IS-4 Integrating Sphere has three 1-inch ports and one 1/2-inch port on the exterior. The post is height adjustable.
Depending on the application situation, certain port plugs, port reducers, or a fiber adapter can be provided. When purchasing the AT-IS-4, the post and mount will also be included, free of charge.
To contact us for more information, please click the "Contact Us" button to go to the Contact Us page. To request a quote or more details about this item, please click the "Email Inquiry" button to open an email to us.