SM301: The Choice for NIR/MIR Spectral Applications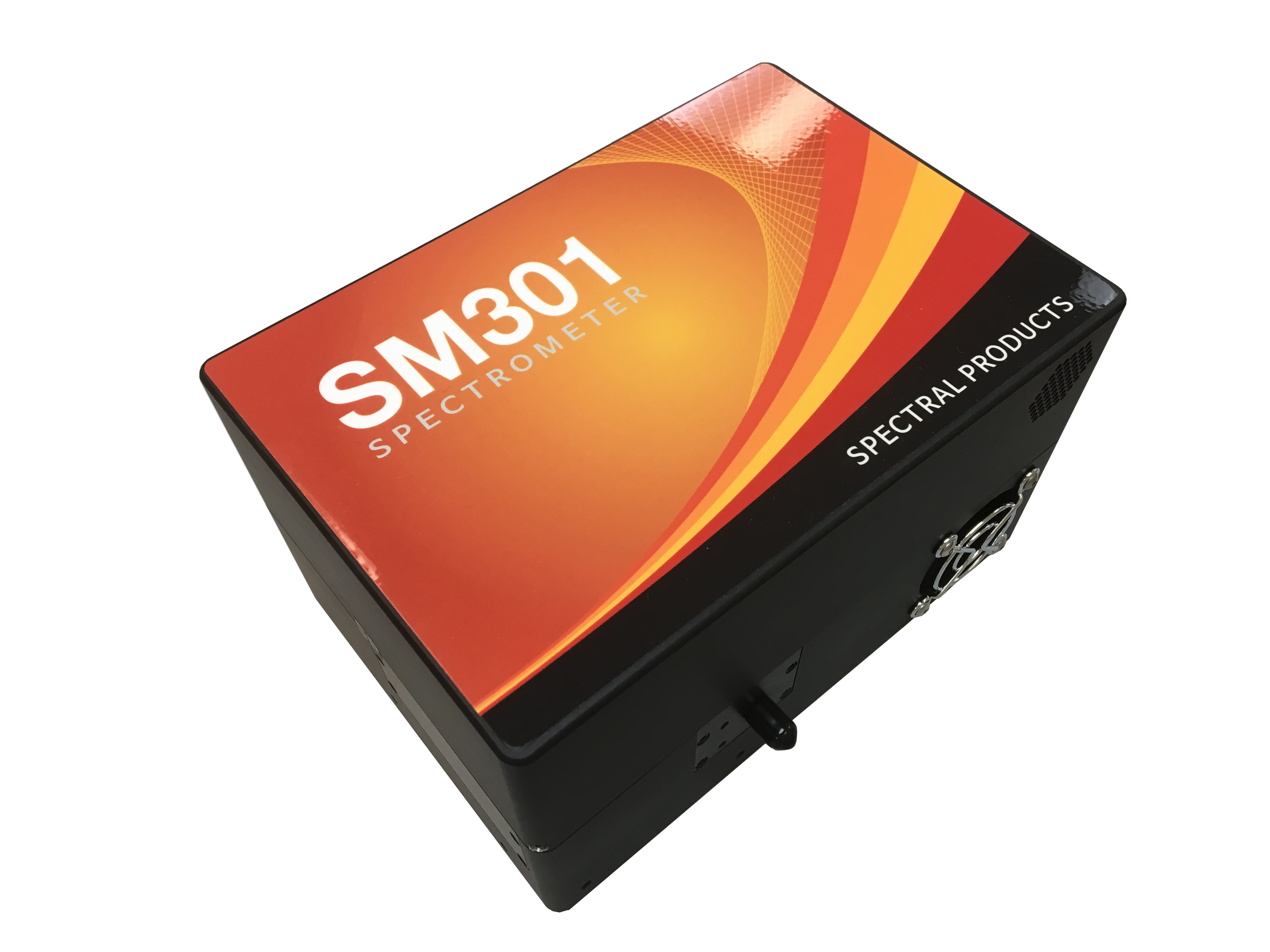 - New upgrades with auto shutter for dark condition
- Low noise
- Cooled, stable operation
- 256 Detection elements
- Accommodates spectral measurements in the 1.0 to 3.0 micron (PbS) or 1/5 to 5.0 micron (PbSe) region
- Optical input direct to slit or via fiber
The SM301/SM301-EX is a versatile, high-performance PbS/PbSe array spectrometer. Its active components include a TE cooler and a 256-element PbS/PbSe detector element array. Operation of the unit for research applications is easy with the included SM32Pro - Windows-based analysis software. The system is ideal for spectroscopic applications in the 1.0 to 3.0 micron (PbS) or 1.5 to 5.0 micron (PbSe) region. The SM301/SM301-EX includes thermoelectric cooling to guarantee long-term operational stability. The SM301/SM301-EX employs a multiplexed PbS/PbSe array as its NIR detection element. The array is cooled and temperature stabilized at around -10°C which ensures long-term operation stability. The dark signal can thus be automatically measured by the built-in electronics periodically and subtracted automatically. Compared with conventional scanning NIR spectrometers the SM301/SM301-EX provides the multi-channel detection advantage, both in reducing the measurement time and enhancing the measurement signal-to-noise ratio. The SM301/SM301-EX can operate at a readout rate of 2MHz or faster allowing fast measurement and averaging operations to be performed in a short time. The newly upgraded SM301 and SM301-EX provide the auto-shutter function to make dark conditions automatically. Users don't need to block any input light for setting 0% transmission (dark scan).
NOTE: Please click SM301/301-EX for the brochure file.
To contact us for more information, please click the "Contact Us" button to go to the Contact Us page. To request a quote or more details about this item, please click the "Email Inquiry" button to open an email to us.
---
Software
- SM32Pro & SMProMX - Windows (32-bit/64-bit) based software for data acquisition and analysis

- Transmission, reflectance, and absorbance measurements

- Data export, zoom in and out, spectrum overlays, and more features

- Signal average and integration time control

- DLL libraries available for easy user software development in DOS and Windows

- VC++ / LabView examples available
---
Model

SM301

SM301-EX

Detectors

PbS
Peak Detectivity: 1 x 1011cm Hz 0.5W-1

PbSe
D*: 1 x 1010cm Hz 0.5W-1

Pixels: 256
Sensing Pixel Size: 45µm x 450µm
Pixel Clock: 2MHz (max.) for 4MHz data output
Linearity: > 90%
Response Uniformity (peak to peak): ±10% of array single mean

Spectral Range

1.0 - 3.0µm

1.5 - 5.0µm

Spectral Resolution

10 to 30nm depending on the slit and grating (covering wavelength choices)

Spectrograph f#

3.5

Fiber Coupler

SMA 905 or FC standard

Stray Light

Better than 0.1%

min. Integration time

0.01 - 200ms (on board)

Slit Options

10, 25, 50, 100µm (default: 25µm)

TE Cooling Temperature

-15°C ARO (default)
down to -20°C ARO is possible

Computer Interface

USB 1.1 / 2.0 16-bit

Power Supply Information

Input: 240-Volts AC (47 - 63Hz )

Output: 15.0-Volts DC & 1.6A

Software

Windows XP/VISTA/Win7/Win8.1/Win10 (both 32/64bit)

SM32Pro & SMProMX (free with spectrometer)
Includes DLL libraries and SDKs for easy custom application development

Dimensions

6.81L x 4.72W x 3.86H inches

Weight

5.5lbs

Dark Noise RMS

~20 RMS counts in 16bit (after balancing)

Trigger mode

Free Run Mode
External Trigger Mode

Orders Sorting Filter

n/a