Optical Fibers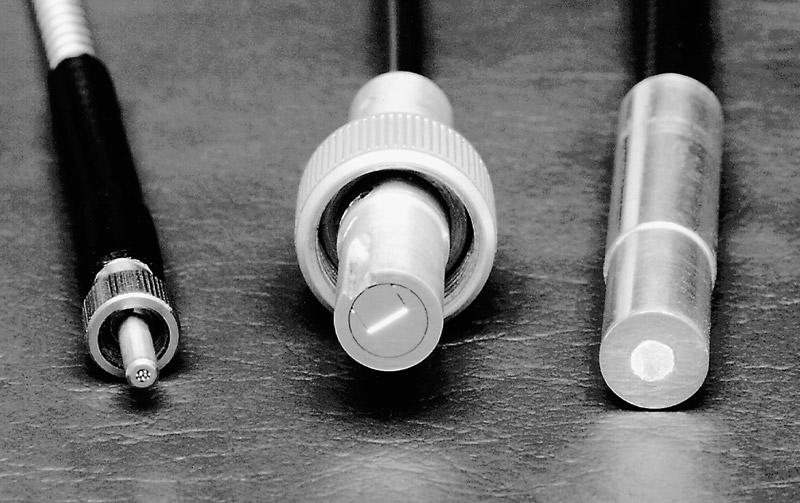 Spectral Products offers a complete line of silica core optical fibers and patch cord assemblies. Standard assemblies have the specifications listed below. Please call if you don't see what you're looking for, have questions, or have a custom requirement! Standard assemblies are sheathed in crush-resistant black PVC-covered flexible galvanized steel mono-coil.
Fiber Core Sizes

Single Fibers: 50µm, 100µm, 200µm, 400µm, 600µm, and 1,000µm.
Other core sizes (up to 1,000µm) are possible.

Bifurcated Fibers: 100µm, 200µm, and 400µm.

Connector Options

SMA-905 (standard)
FC (standard)
10mm ferrule
Other custom connectors are available

Sheathing Options

PVC Monocoil (standard)
PVC with Kevlar reinforcement
Flexible stainless steel interlock
Polyimide
Tefzel
Acrylate
Nylon
Standard Fibers: [SF/BF]-[OOOO]-[XX][YY]-[U/I][oo][-NS]
Keyword

Description

Fiber Type (SF or BF)
Single Fiber: SF
Bifurcated Fiber: BF
Core Size (OOOO µm)

OOOO microns

(ex. 0600 would translate as 600µm)

Connector Type (XX) (YY)

SMA 0905: SM
FC: FC
Ferrule: FR
(ex. SMFC would translate as one SMA-905 end and one FC end)

Note: In case of the bifurcated fibers, "XX" is for the bifurcated ends and "YY" is for the joint end.

Wavelength Range (U or I)
U: UV / Vis (250 - 1,150nm)
I: Vis / NIR (400 - 2,250nm)
Fiber Length (oo)
oo: oo/10m
(ex. 20 = 2.0m or 15 = 1.5m)
Non-solarizing option (-NS)
Non-solarizing for deep UV applications (190 - 1150nm)
Full Example
SF0100-SMFC-U20: single fiber + 100µm core size + SMA (905) to FC fiber connection type + UV/Vis range + 2.0m length
BF0200-FCFC-I10: bifurcated fiber + 200µm core size + FC to FC fiber connection type + Vis/IR range + 2.0m length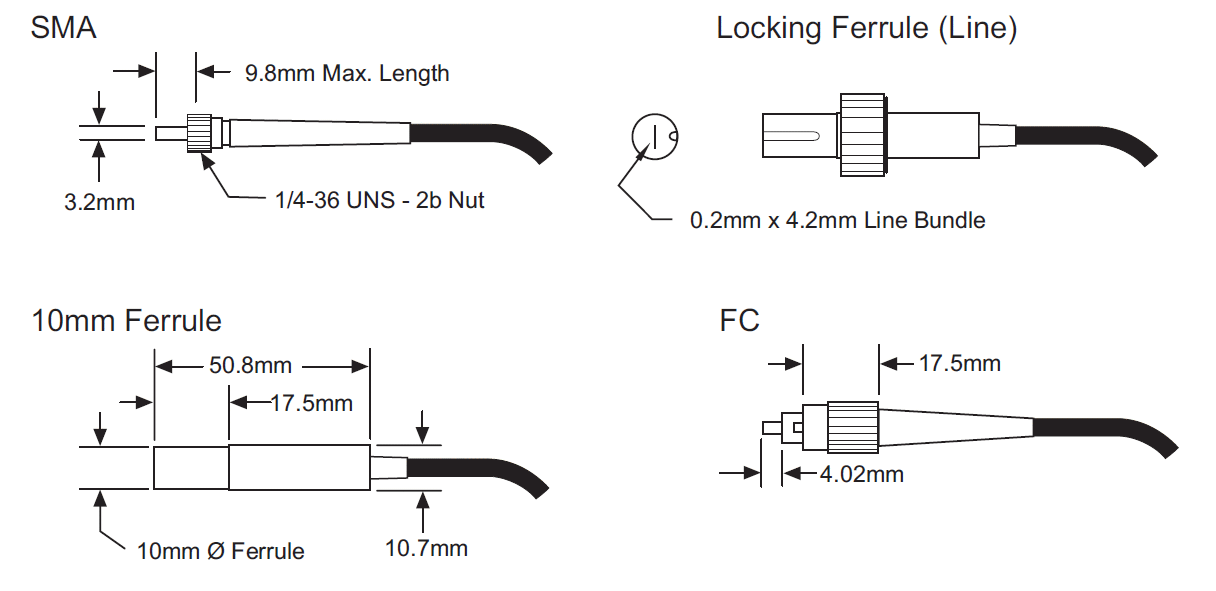 To contact us for more information, please click the "Contact Us" button to go to the Contact Us page. To request a quote or more details about this item, please click the "Email Inquiry" button to open an email to us.
| | |
| --- | --- |
| Part # | Description |
| AF5000-5000-1111-DUV10S | Liquid-guided, Round-Round, 0.43 NA (1.2 F#), Ferrule, 1m, S Type (220 ~ 600nm) |
| AF5000-5000-1111-UV-Vis10S | Liquid-guided, Round-Round, 0.59 NA (0.85 F#), Ferrule, 1m, V Type (300 ~ 650nm) |
| AF5000-5000-1111-Vis10S | Liquid-guided, Round-Round, 0.59 NA (0.85 F#), Ferrule, 1m, V Type (340 ~ 800nm) |
| AF5000-5000-1111-Vis-NIR10S | Liquid-guided, Round-Round, 0.52 NA (0.96 F#), Ferrule, 1m, I Type (420 ~ 2,000nm) |