SM303: The Choice for High Speed Data Acquisition Applications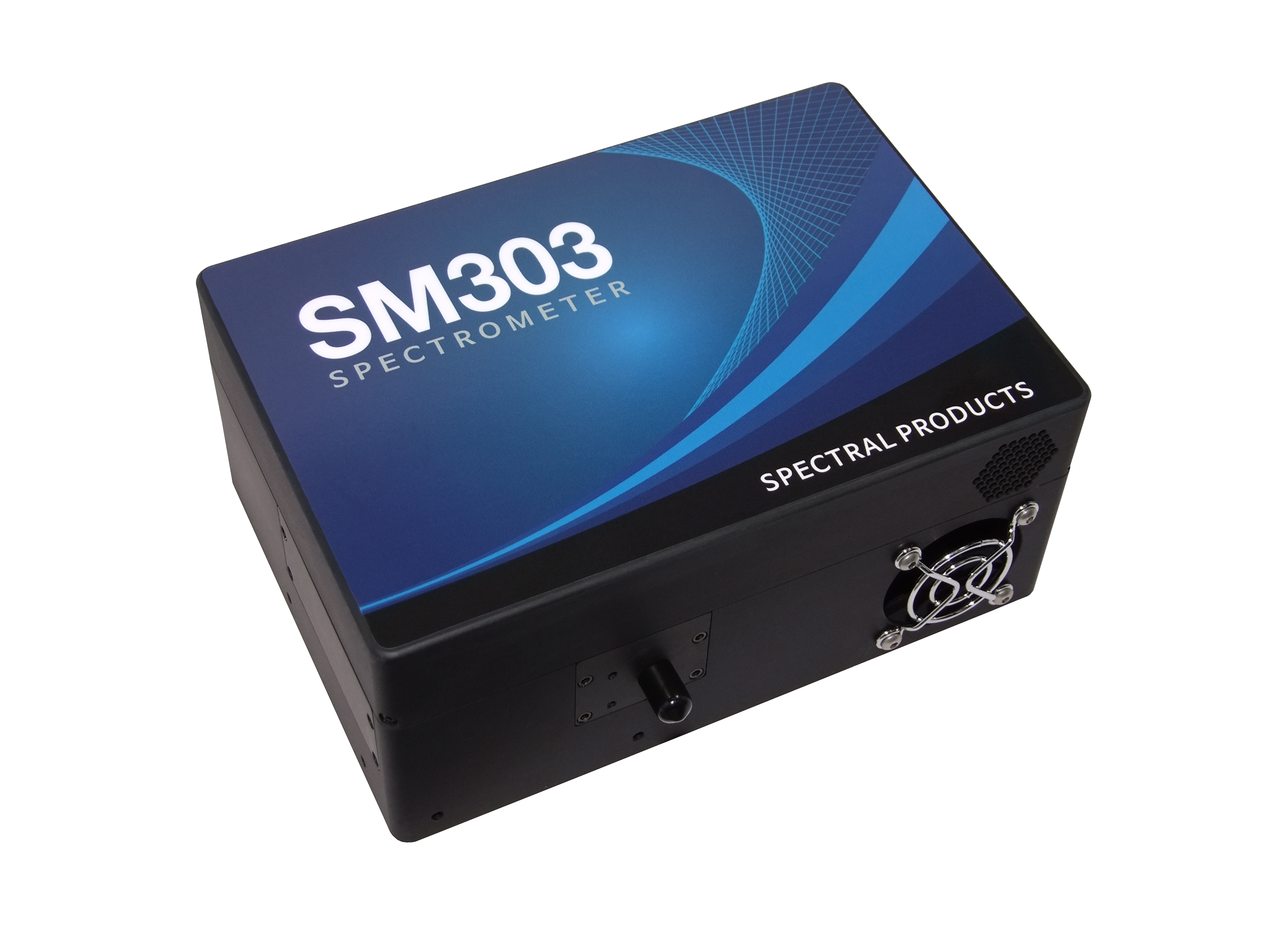 - Scientific-grade high performance
- Extremely low dark noise and stray light
- Wide dynamic range and high signal to noise ratio
- High UV Quantum efficiency
- Flexible optical input direct to slit or via fiber
- Design from the ground up for a wide range of applications
- High-speed data acquisition
- Standard design allows up to 200 - 1050nm range
- New upgrades with auto shutter for dark condition
Spectral Products is offering the new SM303 TE cooled back-thinned 1024 pixel array CCD spectrometer. The SM303 is ideal for UV/VIS/NIR spectrometry that requires a very high signal-to-noise ratio and/or high dynamic range, like fluorescence, Rama, and LED property testing applications. The back-thinned CCD has excellent sensitivity to UV and allows deep UV application. Well-designed housing allows up to an 850nm measurement window from 200nm to 1050nm (smaller measurement window sizes increase spectral resolution and light sensitivity) with very low stray light. The TE cooled detector also helps to measure very low light signals by reducing the noise level during long integration times. Thanks to the high dynamic range and the low noise, the SM303 is also ideal for radiometric measurement applications. The standard interface to the SM303-Si is a USB 1.1/2.0 compatible interface with 16-bit. Software support includes an SDK and DLLs for dedicated applications development and our SM32Pro Windows-based spectral acquisition and analysis software. The new upgraded SM303 provides the auto-shutter function to make dark conditions automatically. Users don't need to block any input light for setting 0% transmission (dark scan).
NOTE: Please click SM303 for the brochure file.
To contact us for more information, please click the "Contact Us" button to go to the Contact Us page. To request a quote or more details about this item, please click the "Email Inquiry" button to open an email to us.
---
Software
- SM32Pro & SMProMX - Windows (32-bit/64-bit) based software for data acquisition and analysis

- Transmission, reflectance, and absorbance measurements

- Data export, zoom in and out, spectrum overlays, and many more features

- Color analysis tools included

- Signal average and integration time control

- DLL libraries available for easy user software development

- VC++ / VB / LabView / Matlab examples available
---
Model

SM 303

Detector

Hamamatsu S7031-1006 Back-Thinned CCD

Pixel: 1044 x 64 (active: 1024 x 58)
Sensing Pixel size: 24µm 24µm
Sensitivity: ~ 0.065 counts/e-
Well depth: 300Ke- (vertical) 600Ke- (horizontal)
Quantum efficiency: > 90% @650nm, 65% @250nm
Cooling: One stage TE-cooled (-10°C)

Spectral Resolution

0.15 to 10nm depending on the slit and grating choices

Spectral Range

200 - 1100nm

Spectrograph f#

3.3

Fiber Coupler

SMA 905 or FC standard

Stray Light

< 0.05% avg

Dark Noise RMS

< 2 RMS counts in 16-bit @35ms integration time

Signal to Noise Ratio

> 1000 : 1

min. Integration Time

7ms

Trigger mode

Free Run mode
Software Trigger mode
External Trigger mode (9-pin connector)
TTL Edge Trigger input/digital output for monitoring

Orders Sorting Filter

Longpass filter or linear variable filter installed per wavelength coverage

Computer Interface

USB 1.1 / 2.0 16-bit (0 - 65535), support up to 8-multi-channel configuration

Software

Windows XP/VISTA/Win7, 8.1, 10 (32/64bit)
SM32Pro & SMProMX (free with spectrometer)

Includes DLL libraries and SDKs for easy custom application development

Dimensions (inches)

9.13H x 5.12W x 3.56D inches

Weight

7lbs

Slit Options

10, 25, 50, 100, 200, and 400µm

TE Cooling Temperature

-10°C