SM303-HRS TE cooled Back-Thinned 1024 px array CCD spectrometer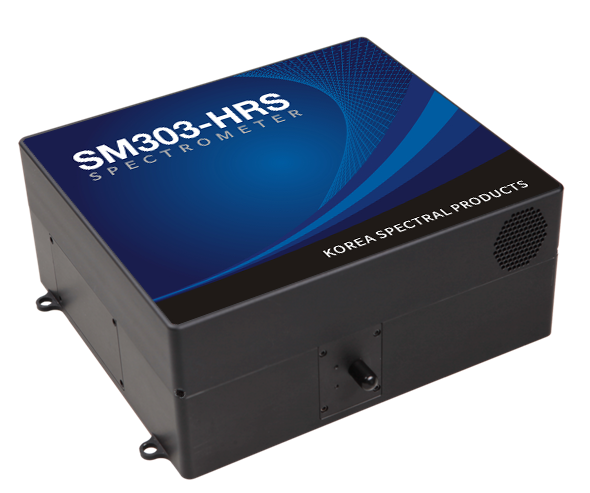 - High Resolution optical bench
- Scientific-grade high performance
- Extremely low dark noise and stray light
- Wide Dynamic range and high signal to noise ratio
- High Ultra-Violet Quantum efficiency
- Flexible optical input direct to slit or via fiber
- Designed from the ground up for a wide range of applications
- High speed data acquisition
- Standard design allows up to 200 to 1050nm range
The SM303 is ideal for UV/VIS/NIR spectrometry that requires a very high signal-to-noise ratio and/or high dynamic range, like fluorescence, Raman, and LED property testing applications. The back-thinned CCD has excellent sensitivity to UV and allows deep UV application. Well-designed housing allows up to 75nm measurement window within 200~1050nm for 0.2nm optical resolution with very low stray light. The TE cooled detector also helps to measure very low light signals by reducing the noise level in a long integration time.
NOTE: Please click SM303-HRS for the brochure file.
To contact us for more information, please click the "Contact Us" button to go to the Contact Us page. To request a quote or more details about this item, please click the "Email Inquiry" button to open an email to us.
---
Software
- SM32Pro & SMProMX - Windows (32-bit/64-bit) based software for data acquisition and analysis

- Transmission, reflectance, and absorbance measurements

- Data export, zoom in and out, spectrum overlays, and many more features

- Color analysis tools included

- Signal average and integration time control

- DLL libraries available for easy user software development

- VC++ / VB / LabView / Matlab examples available
---
Model

SM303 HRS

Detector

Hamamatsu S7031-1006 Back-Thinned CCD

Pixel: 1024 x 58
Sensing Pixel size: 24µm x 24µm
Sensitivity: ~ 0.065 counts/e-
Well depth: 300 Ke- (vertical), 600 Ke- (horizontal)
Quantum efficiency: > 90% @650nm, 65% @250nm
Cooling: One-stage TE-cooled °C

Spectral Resolution

0.2 - 7nm FWHM

Spectral Range

Full Range: 200 - 1050nm
UV Range: 200 - 450nm
VIS Range: 380 - 760nm
NIR Range: 550 - 1050nm

Spectrograph f#

3.3

Fiber Coupler

SMA905 or FC standard

Stray Light

< 0.01% @632nm (< 0.05% avg)

Dark Noise RMS

< 2 RMS counts @35ms

Signal to Noise Ratio

1000 : 1

min. Integration Time

7ms

Trigger mode

Free Run mode
S/W Trigger mode
H/W Trigger mode

Orders Sorting Filter

Longpass filter or linear variable filter installed per wavelength coverage

Computer Interface

USB 1.1 / 2.0 compatible

SDK Support

Visual C++, Visual Basic, LabView, Matlab

Dimensions

9.25 x 6.95 x 3.75 inches

(23.5 x 17.65 x 9.52cm)

Weight

8.16 lbs

(3.7 kg)

Slit Options

10, 25, 50, 100, 200, and 400µm

TE Cooling Temperature

-10°C