Optical Emission Spectroscopy
SM-642-MUX-1-V2
Product Details
- Low-cost and High Performance Back-thinned CCD based OES system
- High-speed Data Acquisition
- High Signal to Noise Ratio
- High UV Quantum Efficiency
- Low Dark current noise and stray light for spectro-photometer & spectro-radiometer grade
Application Details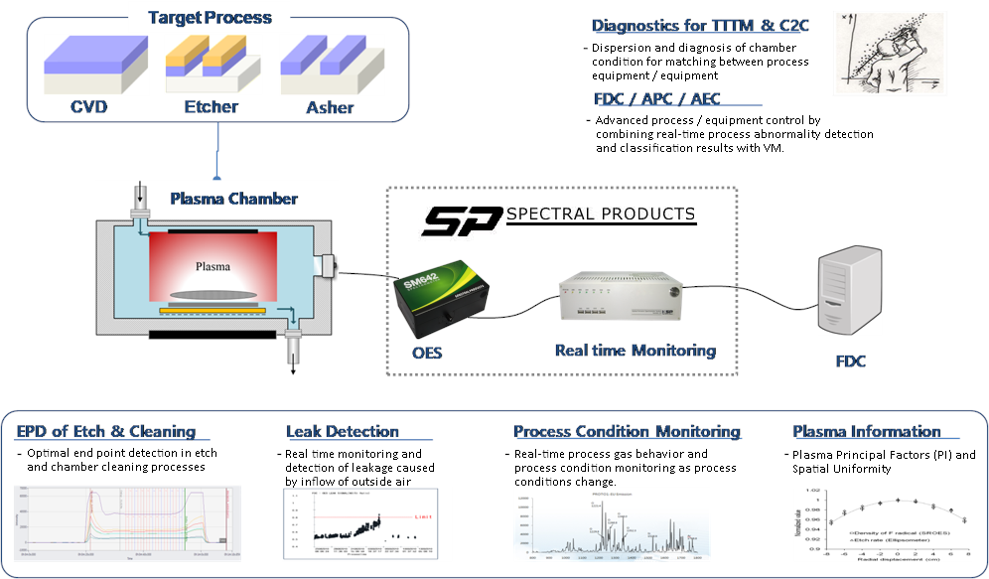 For more information, or if you have any other questions about the system, please contact us here.
OES Overview
Diagnosis of process conditions and anomaly detection is possible through optical spectrum analysis emitted from CVD and dry etching plasma chambers of semiconductor display processes. Our Optical Emission Spectroscopy (OES) system is a multi-channel OES system for real-time monitoring with real-time optical spectrum data acquisition and transmission of customized analysis data based on TCP / IP Interface, online facility condition monitoring, and process condition diagnosis.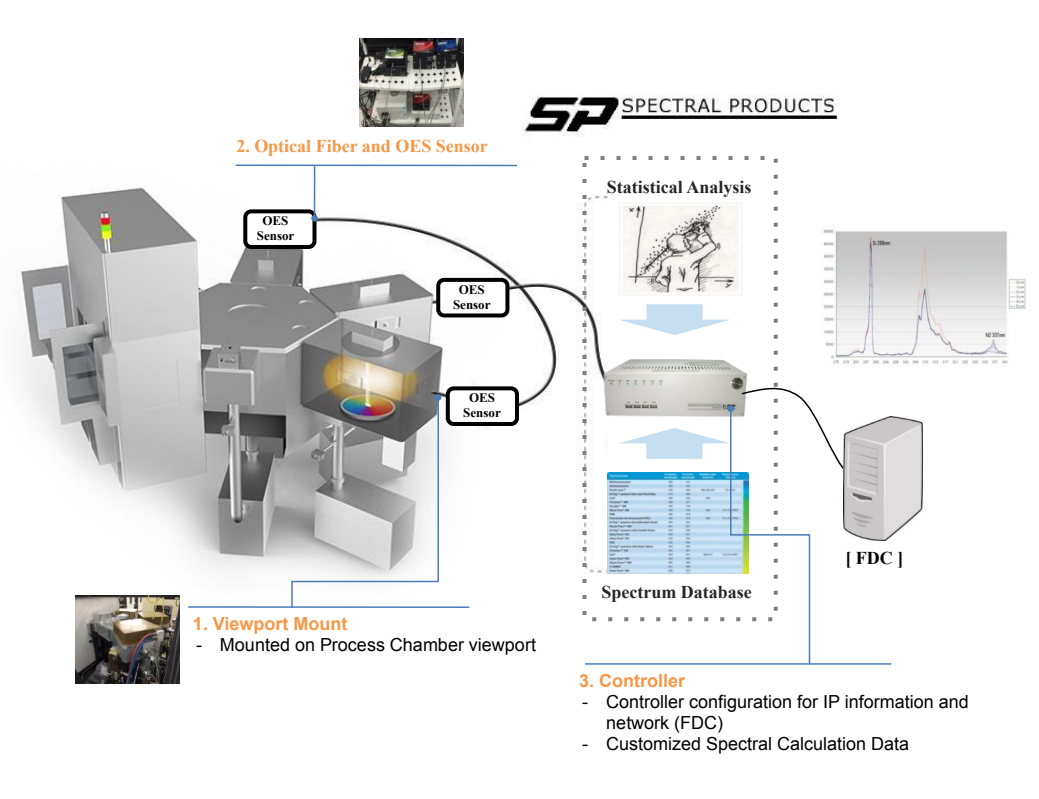 To contact us for more information, please click the "Contact Us" button to go to the Contact Us page. To request a quote or more details about this item, please click the "Email Inquiry" button to open an email to us.
OES Sensor Specifications (SM642*)
| | |
| --- | --- |
| Spectral Range | 200-850nm |
| Pixel Number | 2048 x 64 (effective) |
| Spectral Resolution | 0.3 ~ 7nm FWHM (User Selectable Manufacturing) |
| Wavelength Accuracy | Less than ±0.3nm |
| Computer Interface | USB 1.1 / 2.0 Controller |
| Dark Noise RMS | < 7 RMS counts @35ms |
| Minimum Exposure Time | 7 ms |
| SNR | 450 : 1 |
| Stray Light Level | Less than 0.05% avg |
| ADC Resolution | 16-bit (0 ~ 65535 counts) |
| Dimensions | 5.98 x 3.94 x 2.50 inches (152 x 100 x 63.6mm) |
Controller Specification (SM-MUX-V2)
| | |
| --- | --- |
| Interface | Rendezvous for TC (FDC) Communication with FabGuardTM Customized NON-SECS Protocol* |
| OES Multi-channel | 4 channels maximum |
| Type | Horizontal Type |
| OS | Microsoft Windows |
| Software | SM32ProMX_RV v1.0 |
| Dimensions | 11.42 x 10.24 x 3.54 inches (290 x 260 x 90mm) |
* SVID Status: SVID List and Real-time transmission value monitoring
* RV Log: Real-time RV Communication Log Recording
* RV setting
* Software: SM32ProMX_RV v1.0
Optical Fiber Specification (AF0400-SMSM-U50S-NS-Metal)
| | |
| --- | --- |
| Core Size | 400um fused silica core |
| Transmission Range | 200 ~ 110nm Non-solarizing Option for Deep UV |
| Total Length | 5 meters |
| Connector | SMA905 |
| Jacket Type | Metal Armored (OD ~ 3mm) |