The Choice for Low Signal Level NIR/SWIR Applications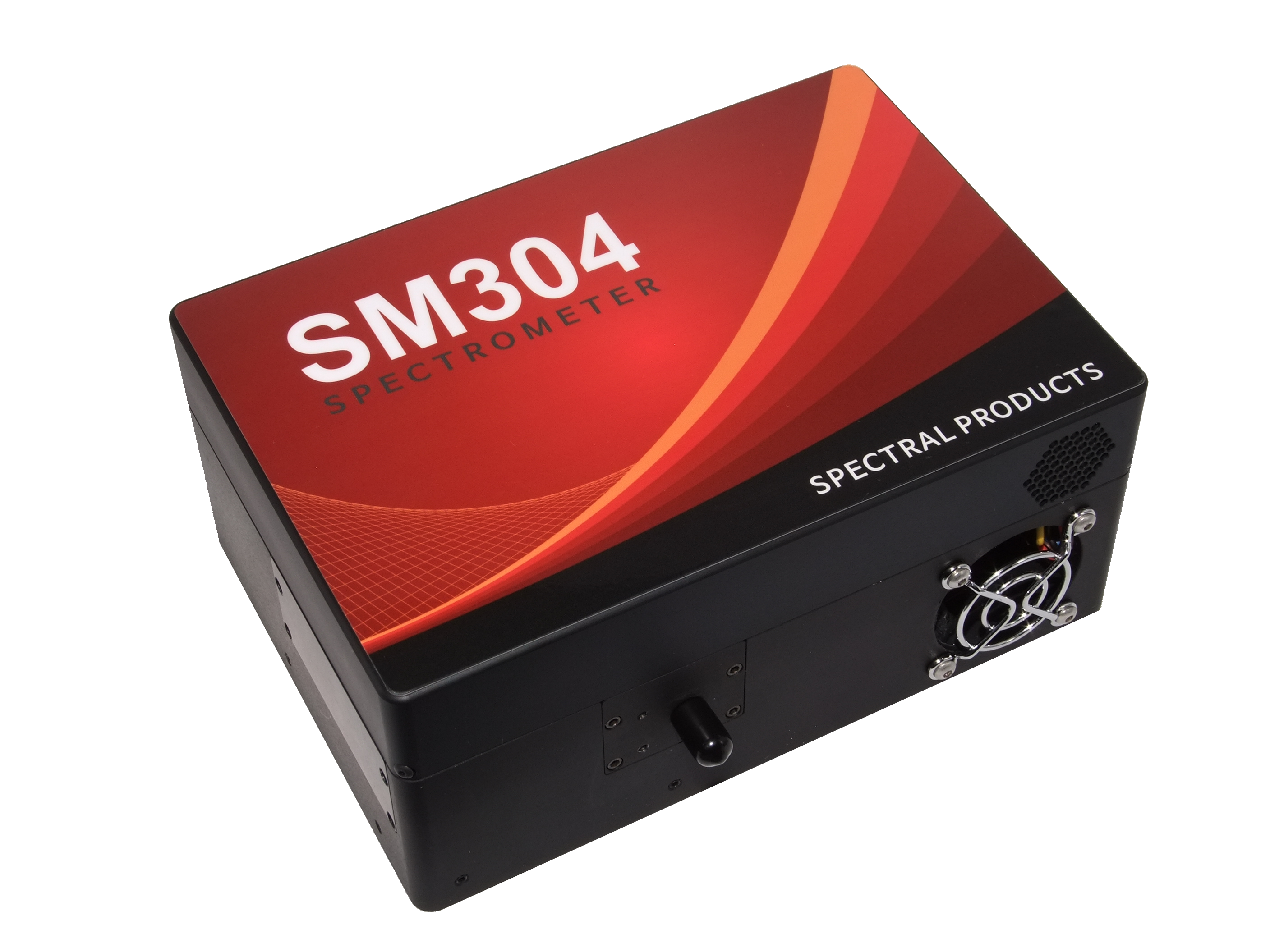 - New Lower Pricing
- Scientific-grade high performance
- Extremely low dark noise and stray light
- Wide dynamic range and high signal to noise ratio
- High stability
- Flexible optical input direct to slit or via fiber
- Designed from the ground up for a wide range of applications
- High-speed data acquisition
- Various NIR/SWIR range from 900 - 2500nm
- Auto shutter for dark condition
Spectral Products is offering the new SM304 TE cooled InGaAs array spectrometers. The SM304 series is ideal for NIR/SWIR spectrometry which requires a very high signal-to-noise ratio and/or high dynamic range. The high performance with the low-noise level of the SM304 series makes it possible to apply in very demanding applications. The good sensitivity of the detectors used in the SM304 series allows various broad-band applications like measuring the optical properties of various samples in the NIR/SWIR range, analyzing chemicals/moisture detection, as well as narrow-band applications like NIR/SWIR laser characterization. The standard interface to the SM304 series is a USB 1.1/2.0 compatible interface with 16-bit. Software support includes an SDK and DLLs for dedicated applications development and our SM32Pro Windows-based spectral acquisition and analysis software. The new upgraded SM304 provides the auto-shutter function to make dark conditions automatically. Users don't need to block any input light for setting 0% transmission (dark scan).
NOTE: Please click SM304 for the brochure file.
To contact us for more information, please click the "Contact Us" button to go to the Contact Us page. To request a quote or more details about this item, please click the "Email Inquiry" button to open an email to us.
---
Software
- SM32Pro & SMProMX - Windows (32-bit/64-bit) based software for data acquisition and analysis

- Transmission, reflectance, and absorbance measurements

- Data export, zoom in and out, spectrum overlays, and more features

- Signal average and integration time control

- DLL libraries available for easy user software development in DOS and Windows

- VC++ / VB / LabView / Matlab examples available
---
| | | | | | |
| --- | --- | --- | --- | --- | --- |
| Models | SM304-512 | SM304-512-2.2 | SM304-512-2.5 | SM304-256-2.1 | SM304-256-2.5 |
| Detectors | | | | | |
| Spectral Response Range (µm) | 0.9 - 1.7 | 0.9 - 2.2 | 0.9 - 2.5 | 0.9 - 2.05 | 0.9 - 2.5 |
| Pixel Size | 25 x 500µm | 25 x 250µm | 25 x 250µm | 50 x 500µm | 50 x 500µm |
| Optical Resolution | >3nm overall | >5nm overall | >6.5nm overall | >7nm overall | >9nm overall |
| Signal to Noise ratio | >15,000:1 @100ms | >10,000:1 @100ms | >10,000:1 @100ms | >10,000:1 @100ms | >7,500:1 @100ms |
| Dark Readout Noise RMS* | <6RMS @100ms | <10RMS @100ms | <10RMS @10ms | <10RMS @100ms | <12RMS @10ms |
Spectrograph f#

3.3

Fiber Coupler

SMA905 or FC standard

Stray Light

< 0.01% @632nm (< 0.05% avg)

min. Intergration Time

1ms

Trigger mode

Free Run mode
Software Trigger mode
External Trigger mode
TTL Edge Trigger input/digital output for monitoring

Orders Sorting Filter

Longpass filter or linear variable filter installed per wavelength coverage

Computer Interface

USB 1.1 / 2.0 16-bit (0 - 65535), supports up to 8 multi-channel configuration

Software

Windows XP/VISTA/Win7, 8.1, 10 (32/64bit)
SM32Pro & SMProMX (free with spectrometer)

Includes DLL libraries and SDKs for easy custom application development

Dimensions (inches)

6.81H x 4.72W x 2.95D inches

Weight

4.5lbs

Slit Options

10, 25, 50, 100, 200, and 400µm

TE Cooling Temperature

-20°C (two stage TE cooling)
*: Measured with TEC On & 10pF CF value